"Testing the Waters: An Experiment in Water Quality"
Jim Ratigan, Teacher (holding one of our Watercenter kits).
Ruth Musser Middle School
6th Grade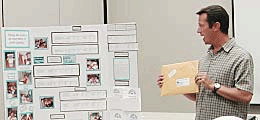 From City of Pomona website: www.UseWaterWisely.com/grantwinners
For this project students learned the concept of drinking water quality by learning about various water tests and kept their notes in a water quality notebook. Groups were formed based on tests to be administered with group one analyzing drinking water from various fountains at Ruth Musser Middle School. The second group tested home tap water versus four different bottled waters sold at local grocery stores. Students administered various tests, interpreted data, created summaries of results, and created charts and graphs for display. Overall this helped students to learn about the scientific process and increase their knowledge of water quality.