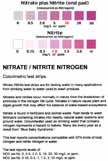 Download PDF 203k
Item: 135-Nit27
Model: Nit27Strips
QuickCheck Nitrate and Nitrite Test Kit
>>> Performs 27 Sets of Dual Nitrate and Nitrite Tests.
Nitrate and Nitrite contamination can come from fertilizers and animal wastes entering water supply. QuickCheck Nitrate / Nitrite (both tests on one strip) dual test strips can measure both in only 60 seconds. Need explaination? Click 'More Info' for screen or 'Download PDF' for printing.
$ 62.59
$ 12.50
$ 50.09
Add to Cart
Show Cart