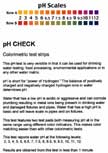 Download PDF 702k
Item: 576-Juice4-sr6
Model: Juicesr6Sets
"576 - Compare Juice Soda Pop Milk: 6 Study Refill Kit
>>> Performs 6 Studies for pH, Alkalinity, Water Hardness and Total Dissolved Solids.
Tests 18 samples and demos. "
"Contains: 72 Tests (18 sets of 4 tests), 18 water sample containers, instructions and internet support. Each water sample is tested for this Set of parameters: pH, Alkalinity, Water Hardness, Total Dissolved Solids (4 tests per set). Need explaination? Click 'More Info' for screen or 'Download PDF' for printing."
$ 285.49
$ 42.80
$ 242.69
Add to Cart
Show Cart